Vaccine Efficacy Against Death —Once Hospitalised— for 17 January, 2022 was NEGATIVE at -191.9% in NSW Australia.
Vaccine effectiveness against death —once hospitalised— simply looks at the latest known hospital occupancy of the vaxxed verses the unvaxxed and the deaths associated with the same cohort.
DATA:
In Hospital:
Vaxxed 68.9%
Unvaxxed 28.8%

Deaths:
Fully Vaxxed 14 ppl (82.4%)
Partially Vaxxed 1 ppl (5.9%)
Unvaxxed 2 ppl (11.8%)
Calculation: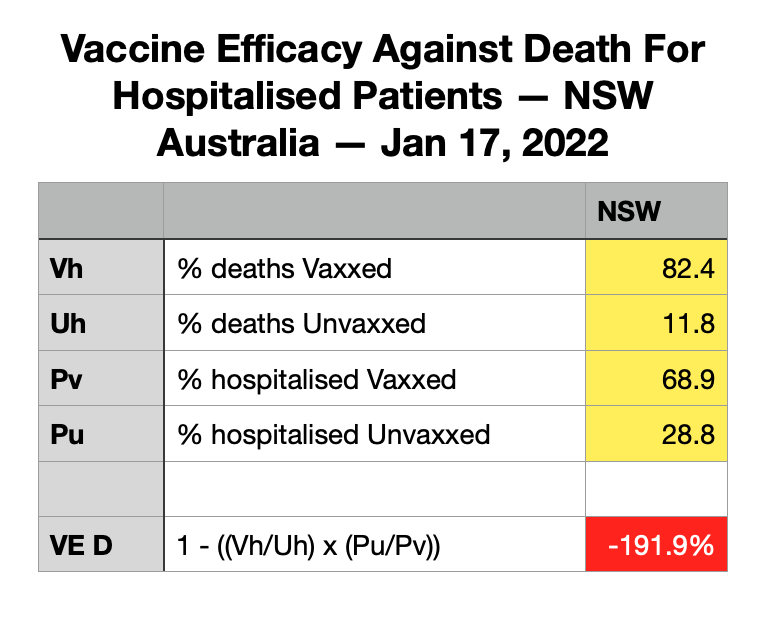 Vaccine Efficacy Against Death:
VED = -191.9%
Today's data is showing NEGATIVE vaccine efficacy against death once hospitalised. I do not have daily breakdown of hospitalised patients by vaccine status so I am using the latest report data as shown at the bottom of this page.
Data
https://aci.health.nsw.gov.au/
NOTE
This is daily data so it will fluctuate greatly so I will do it for a few weeks and graph the result.