February has not yet concluded and NSW alone reported 419 lives lost this month.
If we add deaths from Victoria and other states; Australia will shatter the monthly mortality record of August 2020.
All Of Australia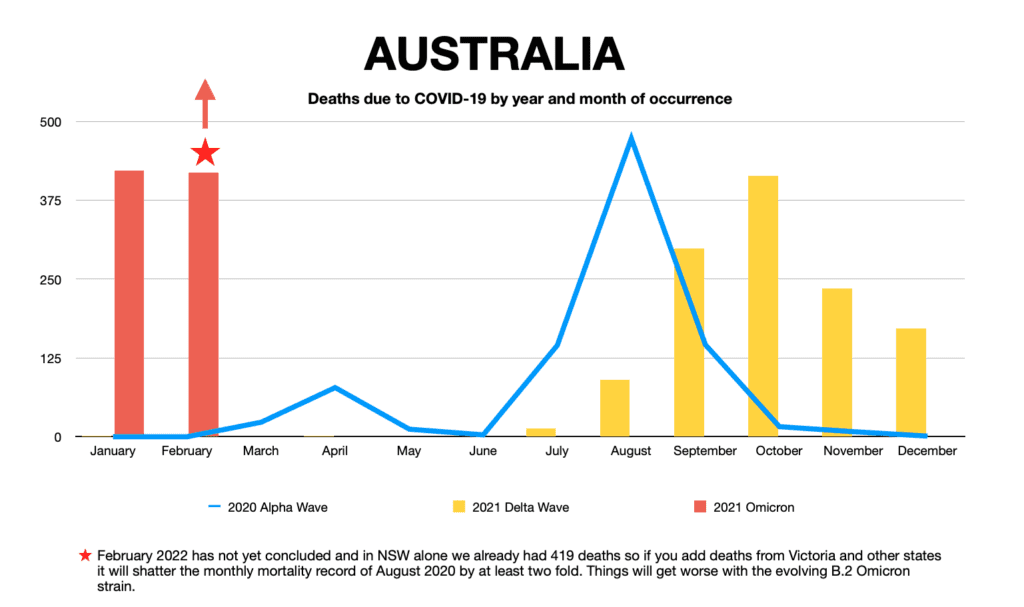 Please note that Omicron (red) is still in progress and the second red bar marked with a star for February is incomplete and likely to be more than twice as large (currently the bar is only showing NSW reporting till the 19th of February).
Bureau of Statistics Data records the actually dates when death occurred whereas the daily Worldometers data shows reporting data and not the actual date when the person died.
Waltzing Matilda we have a problem with this pandemic and our media!
Australia why am I breaking the news that February 2022 is the worst month for COVID-19 mortality since the start of the pandemic in 2020?
Is there a problem with our media?
To add salt to our wound there are now new reports stating that the evolving B.2 Omicron strain is becoming more deadly so it is not looking good for the middle of spring in October.
February Data Just For NSW
February-2022-v3

Historic Data Source