86% of the deaths were vaccinated
5% were of the deaths unvaccinated
8% were of the deaths had an unknown vaccine status
Hospital Survival (DEATH RATE^) By Vaccine Status NSW Australia — Week 46 Ending 19 November 2022
While deaths in the "One Dose" group are rare they appear to have the highest death rates once hospitalised. These deaths are currently attributed to Covid-19 but should be attributed to the vaccine itself since these individuals were unable to continue their vaccination process. Vaccine injuries can make individuals more vulnerable to Covid-19 and/or any future shots. Since medication is often dose dependent it is also possible that there is a small percentage of people getting injured on their consecutive shots and their deaths may also be incorrectly attributed to Covid-19 instead of the vaccine.
WEEK 46
86% of the deaths were vaccinated
5% of the deaths were unvaccinated (0 in hospital)
8% of the deaths had an unknown vaccine status
100% of the deaths 50+
97% of the deaths 60+
89% of the deaths 70+
76% of the deaths 80+
32% of the deaths 90+
When NSW Health was reporting the Daily Updates they use to provide us with the vaccine status for all deaths but this changed after April 24 when the Daily Update was suspended in favor of these incomplete weekly updates. How this is acceptable so far into the pandemic is beyond me?
To make matters worse NSW Health still does not provide mortality data by vaccine status for individual age groups as they choose to only provides us with totals across all age groups. There is no nice way of saying this but the withholding of this data is evidence of fraud by design!
COVID-19 HOSPITAL DEATH RATE^ BY VACCINE STATUS NSW SURVIVAL OVERVIEW | Week 46 — Ending 19 November 2022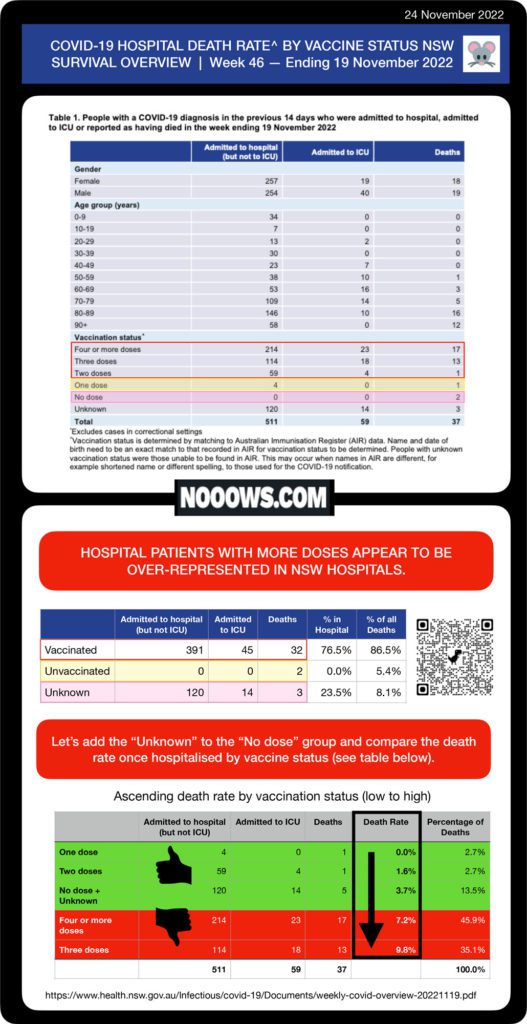 COVID-19 HOSPITAL DEATH RATE^ BY VACCINE STATUS FOR NSW AUSTRALIA | SURVIVAL OVERVIEW — WEEK 3 TO 46, 2022
NSW COVID-19 WEEKLY DATA OVERVIEW Epidemiological week 46, ending 19 November 2022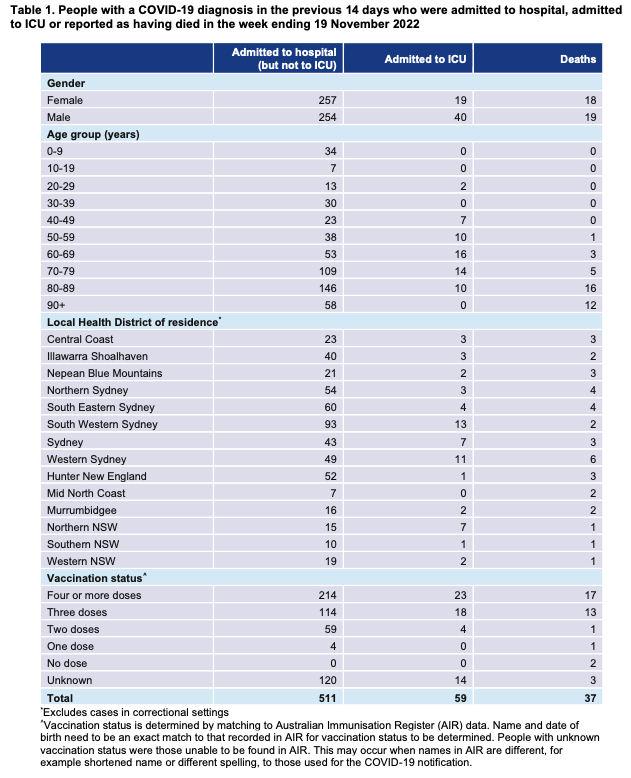 NSW Health Source Data
https://www.health.nsw.gov.au/Infectious/covid-19/Documents/weekly-covid-overview-20221119.pdf